WHERE TO GO IN OCTOBER?
In Europe, it is the beginning of autumn, so making all the Mediterranean areas popular destinations with still sunny weather and warm temperatures. It's the perfect time to visit southern Italy, Andalusia and those magnificent towns in the south of Spain. Also the Greek islands, Cyprus, peaceful Sardinia and protected untamed Corsica are lovely travel destinations now the majority of tourists have left and before the autumn rains and cold start permeating these lovely places.
In Asia, the unpleasant monsoon season is finally ending and the tourist season is beginning to make its appearance overall. You could start thinking about travelling to India although certain areas are still a little cool, even cold in the mountains. It's the ideal time to go trekking in Nepal or undertake some cultural tourism in Kathmandu and its surrounding area. The south of China is coming to the end of its monsoon season too and is very welcoming at this time.
In Africa, the scorching temperatures have ended in the Maghreb countries and it's a great time to go inland in Morocco or visit the Desert in Tunisia. Egypt too is attractive right now, especially if you are thinking of taking a serene, luxurious Nile cruise which will take you back in time accompanied by warm temperatures. A lovely season too in Madagascar and South Africa as well as the Reunion.
In America, it is now the end of the rainy season in various countries whilst Northern America, Canada and the north of the USA is experiencing an Indian summer: Visit Georgia and Atlanta or Dallas in Texas that are experiencing an ideal climate at this time. Also Phoenix in the heart of the desert, in the Salt River Valley, also boasts temperatures that are closer to that of summertime. Argentina has hot, dry weather right now and it's a great time to see the wildlife in Atlantic Patagonia.
To be avoided:
Certain areas of Thailand which are experiencing the typhoon season which can be quite violent at present. It is also not a good time to travel to some of the South Pacific countries such as Fiji, New Guinea and the north of Australia. The Gulf of Mexico and the Caribbean are also experiencing their hurricane season at this time.
Our choice
---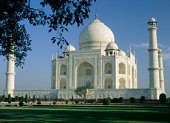 Turkey is a pleasant destination at this time of the year after the high temperatures of summer, especially if you wish to visit other areas than the coast.
Cyprus with its Mediterranean climate has lovely warm weather at times in October.
If you are looking to travel in Asia then India is starting its tourist season and Bombay as well as Calcutta have very pleasant weather at present.
The best travel destinations in october:
---
In this table are the best travel destinations for the month of october. The global note of each has been uniquely calculated according to climate data, rated according to the most sunshine and least rainy days but doesn't take into account local touristic specifics such as festivals, events etc that could make travel here especially interesting at this time.
---