WHERE TO GO IN JUNE?

In Europe, it is truly the best time for many countries: In the north, Sweden, Norway and Finland promise days without end, resplendent in the midnight sun that culminates in the summer solstice. Ireland experiences a lovely climate during June with less rain than in summer and temperatures varying between warm to hot. It's the beginning of the tourist season in the Czech Republic that has very pleasant weather right now, even it temperatures can be a little cool at times.
In Asia, only Indonesia escapes the highly unpleasant weather during this monsoon period, as well as Japan. Malaysia, currently experiencing a small respite between its two monsoon periods, can be a lovely destination right now.
In Africa, Kenya enters into its second dry season, a little cooler and breezier than the first but with temperatures just as pleasant at around 23°C on average inland. It's the same for Tanzania that is just beginning its winter characterised by dry and sunny weather with warm temperatures of 18°C at night and 27°C during the daytime.
In America, Peru is entering its winter season which is always dry and sunny with the coast enjoying warm temperatures. Similar weather can be found in the north of Chile as well as the whole of the Cordilleran range in the Andes, certain areas are very welcoming right now.
To be avoided:
Watch out for heat waves that occur in various areas throughout the world, especially Central Africa and the Middle East at this time. The monsoons bring crippling heat and heavy rains to India, to be avoided at all costs!
Our choice
---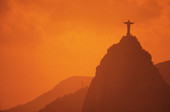 Northern Europe is a firm favourite for travellers right now and the Mediterranean basin is also tempting for those who wish to simply relax in the sun.
In Africa, Tanzania with the stunning landscapes of its National Parks and accompanying wildlife are waiting to astound you at the end of the rainy season.
It's a great time too to visit Brazil, especially Rio where temperatures stay around 25°C at the moment and the rains are fairly rare at the present.
The best travel destinations in june:
---
In this table are the best travel destinations for the month of june. The global note of each has been uniquely calculated according to climate data, rated according to the most sunshine and least rainy days but doesn't take into account local touristic specifics such as festivals, events etc that could make travel here especially interesting at this time.
---