WHERE TO GO IN APRIL?

In Europe, spring has truly arrived with more sunshine and temperatures that are warming just about everywhere: It's the time to take a dip in the Mediterranean on the beaches of Crete, Malta or the Balearic Islands. Scandinavia is still a little cool but the days are lengthening in a spectacular fashion that makes visits there far more agreeable. Turkey is also an ideal destination at this time of the year with warm temperatures and relatively uncrowded tourist areas.
In Asia, Cambodia, Vietnam and Nepal can still be explored comfortably but the majority of Asian countries are unpleasantly hot at this time. However, the Philippines are a great choice as the climate there is excellent at present for going from one island to another without the worry of typhoons. If you don't mind crowds it is also the perfect time to see the flowering cherry trees in Japan. If Australia tempts you then now is the perfect month to discover the delights of Sydney.
In Africa, the entire Maghreb is already hot with glorious sunshine: It's the perfect season for scouring the souks in Marrakech or getting a tan on the beaches at Djerba in Tunisia. The sun is also shining at Cap Vert and the temperatures are still tolerable at 20-25°C. It is also the beginning of the tourist season in Namibia which is gradually entering its dry season.
In America, California, Louisiana and Florida are great destinations at this time of the year as well as Central America and the Bermudas. Excellent time too for exploring New York with all it offers after the winter cold and before the summers that can be scorching.
To be avoided:
Zanzibar and Tunisia that are currently experiencing their heavy rainy seasons. The same goes for South America which is experiencing a high and disagreeable level of humidity at present.
Our choice
---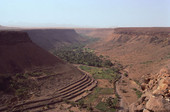 Those who crave heat and beaches could start to take a chance on the Mediterranean coastline in the run up to summer, either the North African or European side.
For travellers seeking more exotic destinations, Vietnam or the Philippines will entice you with their serenity in harmony with the season for an exotic getaway.
Cape Verde is a great alternative for those who want to be close to Europe yet appreciate a pleasantly agreeable tropical atmosphere.
The best travel destinations in april:
---
In this table are the best travel destinations for the month of april. The global note of each has been uniquely calculated according to climate data, rated according to the most sunshine and least rainy days but doesn't take into account local touristic specifics such as festivals, events etc that could make travel here especially interesting at this time.
---