WHERE TO GO IN SEPTEMBER?

In Europe, the climate is favourable in many countries with much sunshine and warm temperatures ideal for travelling from north to south, east to west. Croatia offers a very pleasant Mediterranean climate along its Adriatic coastline, Greece is much more attractive to visit during this month especially the towns and inland. Portugal is still experiencing warm temperatures and pleasant sunshine enabling visitors to explore the entire country, even the north which is slightly cooler. Overall, the majority of European holidaymakers have gone back to work so tourist numbers have diminished leading to cheaper prices.
In Asia, the monsoon period is coming to an end although it is still not the best time to visit this part of the world. However there are still a few countries worth considering: China is big enough to have certain areas that are very pleasant at this time of year; the north-east for example is very attractive in autumn. It is generally better to avoid the south where typhoons can sometimes make dramatic appearances. Indonesia is still a possibility; it is still the dry season there during September with plentiful sunshine as usual.
In Africa, Zimbabwe is in the middle of its dry season offering ideal temperatures of around 27°C during the daytime with cooler nights so beneficial for relaxation. The countryside is superb and the wildlife ever-present and fascinating for nature lovers. Namibia is also in its winter period therefore dry and sunny; September is the height of their tourist season. Now is also a good time to visit northern Africa where the temperatures are hot, but not scorching, at present but still with lovely light.
In America, it is time again to visit North America: Arizona, Nevada, Colorado, Utah and New Mexico are places worth considering at present but the USA in general is great at this time as you avoid the summer heat waves and winter chills. You will also avoid the crowds of the summer months.
To be avoided:
Those areas of the world susceptible to hurricanes, sometimes severe, such as the Caribbean, Central America and also Asia.
Our choice
---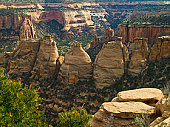 Turkey and Crete are excellent destination choices in Europe that are warm and pleasant at the end of the summer season.
Further down south, Namibia warmed by an endless sun offers you splendid views and a variety of animal species as well as other marvels, both natural and cultural.
It's a great time as well for an expedition into the Rocky Mountains, Colorado for example, with grandiose sites, inaccessible summits and legendary canyons.


The best travel destinations in september:
---
In this table are the best travel destinations for the month of september. The global note of each has been uniquely calculated according to climate data, rated according to the most sunshine and least rainy days but doesn't take into account local touristic specifics such as festivals, events etc that could make travel here especially interesting at this time.
---