WHERE TO GO IN AUGUST?

In Europe, August is the height of the peak season! Millions of holidaymakers from around the world invade the beaches and countryside of Southern Europe. The climate is great for travel for just about the whole of the continent with just a few areas effected by extreme heat (Andalusia, Southern Italy, Greece etc..)
The north of Europe is lovely during this month and summer is the ideal time to visit those countries that are generally considered a little cold and damp such as Ireland, Scotland or Holland.
In Asia, this season is considered the least favourable: The monsoon season is at its height over the majority of this area with the exception of only a few countries (Kerala or Tamil Nadu in India, Bali and the southern islands of Indonesia, the north of Australia etc...). Everywhere else a hot, moist and very humid climate prevails.
In Africa, the Maghreb countries are invaded by tourists, the climate is hot (sometimes extremely hot close to the desert) and dry, the Atlantic coast of Morocco is pleasant thanks to the ocean influence. Further to the south it is the rainy season and it is only along the latitudes of Kenya and Tanzania that the climate becomes favourable to visitors.
In America, the north is generally hot and dry (sometimes extremely hot in the deserts towards the west of the USA). Central America experiences a short rainy season at this time but towards the south the conditions are more favourable.
To be avoided:
Although July and August are favourable to travel "climatically" speaking, it is often not so pleasant when it comes to tranquillity and prices. The vast majority of European countries have their main holidays during this period so the hotels are generally crowded and the prices high for the majority of destinations.
Our choice
---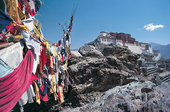 For beach lovers and those seeking relaxation the logical choice is the Mediterranean coast. In Crete for example, as well as Italy, there are lovely beaches and beautiful countryside if you wish to travel in Europe.
For somewhere a little more exotic, Bali is one of the few Asian destinations pleasant at this time.
For the adventurous among you, South Africa beckons. Peru and Tibet await those who enjoy hiking in higher altitudes.
The Top 20 best travel destinations in august:
---
In this table are the Top 20 best travel destinations for the month of august. The global note of each has been uniquely calculated according to climate data, rated according to the most sunshine and least rainy days but doesn't take into account local touristic specifics such as festivals, events etc that could make travel here especially interesting at this time.
---