WHERE TO GO IN MAY?
In Europe, the pleasant weather is coming back and the sun is starting to warm up various countries. It's the ideal time to visit southern and western Europe: Austria is throwing off its winter chills to enjoy a dry and sunny climate at this time with temperatures generally above 20°C. Scotland benefits from its maximum level of sunshine this month and its blossoming flowers add to the beauty of its countryside. Croatia and Hungary enter into the warmth of springtime and Portugal is enjoying summer like temperatures that invite visitors to relax, go for walks and explore.
In Asia, few destinations are recommended at this time of the year. Bali and Indonesia in general (excepting Sumatra where the rain is still frequent despite its dry season) are worth weighing up as is Japan which experiences warm pleasant weather at present. China, depending on the area that you are considering for a visit, can be a good choice at this time.
In Africa, it's a good time to visit inland areas in northern Africa such as deserts before he suffocating heat of summer arrives. A trip to Reunion will provide sunny weather with pleasant temperatures and tolerable humidity levels. Cap Vert is definitely a possibility, rain is infrequent and the sea temperature there is approximately 25°C right now.
In America, the Caribbean, Guadeloupe and Martinique and also the Bahamas are still welcoming for a short time yet before the rainy season starts. In South America you could consider visiting Bolivia where the rainy season has ended. It's also a good time for Central America, the west coast of Mexico in particular.
To be avoided:
Asia in general which is entering its down season. Egypt is starting to suffer from heat waves and India which is entering its monsoon season, very hot and humid. Zanzibar is still in the middle of its rainy season and Sri Lanka is experiencing its monsoon period.
Our choice
---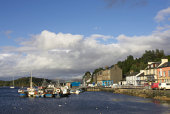 If you are tempted by Europe go to Portugal for summertime temperatures with a refreshing Atlantic breeze. You could also visit Scotland; May could arguably be called its warmest, most beautiful month.
If you are inclined to visit more tropical destinations then Reunion will admirably satisfy your requirements.
For something a little different you could visit the desert at Tozeur in Tunisia, great for excursions right now. The Jordan valley is rain free and hot right now, just before its scorching summer heat waves arrive.
The best travel destinations in may:
---
In this table are the best travel destinations for the month of may. The global note of each has been uniquely calculated according to climate data, rated according to the most sunshine and least rainy days but doesn't take into account local touristic specifics such as festivals, events etc that could make travel here especially interesting at this time.
---