WHERE TO GO IN NOVEMBER?

In Europe, the south is still experiencing lovely days. It's a great time for visiting Sicily, empty of tourists but still with pleasant temperatures fine for swimming, gentle walks and visiting places of interest. The same goes for Majorca and the Balearic Islands although certain places are closed at this time. Depending on the year and the snow conditions, certain ski resorts may already be open for business so you may have the opportunity to ski on the first snow of the season in the French, Italian or Swiss Alps.
In Asia, Hong Kong enjoys clement weather at present, sunny but slightly cool. It's the time for their Festival of Asian Arts which is an event not to be missed. You could also visit South Korea right now where the autumn colours are looking spectacular against the blue sky under a warm sun. This is also a pleasant time for Kazakhstan where the harvest season fills the markets with appetising fresh fruit and vegetables and you can admire beautiful lakes, deserts of golden sands and snow covered mountains.
In Africa, it's the perfect time to go on a camel trek (or on foot or in a 4 wheel drive if you prefer) in Mauritania which is experiencing hot, dry weather at the moment. The sun is still shining in Morocco, Libya and Tunisia where the prices are also interesting right now. It is still possible to discover the riches of Egypt where the month of November is very pleasant. Mali is also a good destination at present, you could take a river cruise along the Niger which is at a good height right now for the boats.
In America, they are experiencing lovely weather in the south of Florida and in Texas, Louisiana, Los Angeles, San Diego and Hawaii. It is also a good time to visit Costa Rica which is fast approaching its dry season although the prices haven't shot up as yet. It's a great time too for visiting Las Vegas where the temperatures are still warm. You may also enjoy a stay at Saint Bart's with its idyllic climate, rebuilt hotels and low prices before the crowd arrives over the next few months.
To be avoided:
Central America in general where the rains are still strong, better wait until December or January. Quebec where various places outside the main towns are closed.
Our choice
---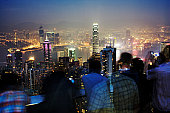 In Europe, southern Spain will make you think winter is still far away as you warm yourself in the last rays of sunshine.
Trekking in Mauritania will take you to a world that seems somehow barren yet surreal and magical that you will not easily forget.
On a more exotic note, Hong Kong, both huge and hectic with its surprising cityscapes and bountiful riches, is fascinating to explore.

The best travel destinations in november:
---
In this table are the best travel destinations for the month of november. The global note of each has been uniquely calculated according to climate data, rated according to the most sunshine and least rainy days but doesn't take into account local touristic specifics such as festivals, events etc that could make travel here especially interesting at this time.
---