WHERE TO GO IN FEBRUARY?

February is a great month for leaving in search of the sun which is starting to be sorely missed by those in the northern countries. Leaving on sun-seeker holidays in February will also avoid the ski resorts which are often overcrowded at this time.
In Europe, winter continues unabated and cold, harsh weather prevails with short days and rare sunlight. Winter sports stations are popular in France at this time because of school holidays but neighbouring countries (Switzerland, Italy, Austria, Andorra, and Spain) offer various possibilities. Those countries in the south of Europe can be very pleasant destinations at this time, everything is flowering and spring is on its way.
In Asia, various destinations are ideal at this time: Burma, Northern India and the Philippines are free from typhoons and the west and south of Sri Lanka and Laos are great if you avoid the mountains. Trekking in Nepal is great right now with plenty of sunlight although the evenings can get very chilly at altitude.
In Africa, it's the opportune moment for a trek in the Moroccan desert, a trip across the Maghreb or for visiting countries such as Senegal or Egypt before the higher temperatures arrive, the prices at this time are affordable too. South Africa currently basks in warm temperatures with low rainfall. Mauritania, Jordan and Syria are sunny right now with cooler nights; take a jumper for the evening!
In America, Argentina, Peru and Nicaragua have pleasant temperatures in February and it's also a great time to discover Southern California and the desert areas to the South-West. Mexico and the Caribbean have beautiful sunny days although you may prefer the cooler temperatures of the magnificent Canadian winter. In Hawaii surfers are having a great time riding the giant waves.
To be avoided:
Indonesia, the Seychelles and Polynesia which currently have their rainy season and Madagascar, the Reunion and Mauritius where there is still a high risk of cyclones.
Our choice
---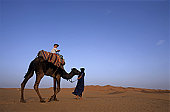 If you feel the need for sun and warmth then the Moroccan deserts in Africa or Mexico in Central America would be ideal choices.
In Africa a Nile cruise will benefit from lovely light at this time with cool, relaxing evenings.
Lovers of open space and country walks will enjoy hikes in the Canadian forests or you could go to Asia and walk beside the Annapurna's mountain chain in Nepal.
If skiing is a must then the European Alps ski resorts will fit the bill although they may be crowded at this time. For those who prefer warmer weather then spring is starting to make its presence felt in southern Spain, Italy and Greece with fine days and warm temperatures.
The best travel destinations in february:
---
In this table are the best travel destinations for the month of february. The global note of each has been uniquely calculated according to climate data, rated according to the most sunshine and least rainy days but doesn't take into account local touristic specifics such as festivals, events etc that could make travel here especially interesting at this time.
---