WHERE TO GO IN JANUARY?

In Europe, the cold, the rain, the low temperatures and short sunny periods do not encourage travelling. The better destinations include the ski resorts in the Alps and the Pyrenees (France, Switzerland, Italy, Austria and Spain) or for those who feel the cold more Andalusia still has reasonable sunshine.
In Asia the season is still favourable for visitors! Thailand, Vietnam, southern China (the north however can still be icy at this time), Burma and India are still sunny with reasonable temperatures and less tourists during January.
In Africa the north is still cool in January, good for discovering the Sahara but not recommended for those wishing to visit the beaches. Towards the south, in Kenya, Tanzania or South Africa, the high season is starting but with a risk of excessive heat on the east coast.
In America, we would suggest Central America, South America and the Caribbean (for example: Mexico, Brazil, Venezuela, Argentina and Chile). The U.S. deserts are still pleasant at this time before the scorching summer heat arrives.
To be avoided:
Indonesia, the Seychelles and Polynesia where it is still the rainy season and Madagascar, Reunion and Mauritius where there is a high risk of cyclones.
Our choice
---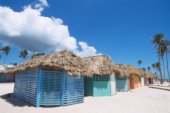 For a relaxing holiday, the West Indies and the Caribbean beckon to you. In the Dominican Republic for example, you would enjoy lovely sunshine, little rain and a pleasant temperature without excessive heat.
For the adventurous why not visit India or Laos? Chennaï (Madras) for example has exceptional sunshine of nearly 10 hours per day in January with an average temperature of 25°C.
Last piece of advice: It is the perfect month for visiting South Africa where you will benefit the most from their summer with over 11 hours of glorious sunshine per day.
The best travel destinations in January:
---
In this table are the best travel destinations for the month of january. The global note of each has been uniquely calculated according to climate data, rated according to the most sunshine and least rainy days but doesn't take into account local touristic specifics such as festivals, events etc that could make travel here especially interesting at this time.
---