Weather today

Clear

Wind: 0 km/h

Precipitation forecast: 0 mm

> Full report and 7-days forecast

---

Data updated at 12:32 (local time)

At that time, the weather was:

35.8 °C / Clear
When to go to Beijing? (China)
Month

Sunlight
(h/d)
Average T
min (°C)
Average T
max (°C)
Record T
min (°C)
Record T
max (°C)
Precipitations
(mm)

Wet days

Rating
January
7
-9
2
-23
13
4
3
February
7
-7
5
-18
20
5
3
March
8
0
12
-14
27
8
3
April
8
8
22
-3
37
16
4
May
9
14
28
3
37
34
6
June
9
19
32
10
44
77
8
July
7
22
32
15
40
242
13
August
7
21
31
11
39
140
11
September
8
15
27
2
33
57
7
October
8
7
21
-5
32
15
3
November
6
-1
10
-13
23
10
3
December
6
-7
4
-20
14
3
2
What to do in Beijing : Tips, places, hotels and restaurants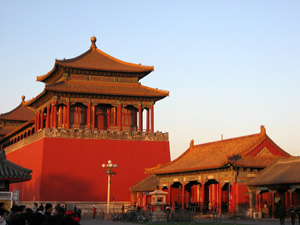 Capital of China, Beijing has 17 million inhabitants. Located north-east, it is the political and cultural center. She underwent a rather continental climate despite the proximity of the sea to the east, with very marked differences in temperature.

The city is served by an international airport and railway station also has a very dynamic. Metro and taxis will travel within the city. Beijing has a rich history, whose history goes back to 250,000 years. Many monuments attest to the imperial period, as the door Tien'anmen, the Forbidden City and the Temple of Heaven.

There are also many theaters and hundreds of interesting museums, like the National Museum of China, the Capital Museum or the Museum of Palaeontology. Can not go to Beijing without visiting the Great Wall, which lies a few tens of kilometers from the city.

You can also visit the mausoleum of Mao Zedong, where you can observe the body of the deceased in his glass sarcophagus, the Yonghe Temple dedicated to Tibetan Buddhism, walk through the hutongs, those districts with low houses made of traditional and enjoy the serenity of parks scattered throughout the city.

Food lovers will surely enjoy Chinese specialties in the many restaurants in the city, especially the Peking duck and Chinese fondue, and delicious Chinese dumplings or Jiaosi.
Request a local expert to customise your tailor-made tour
Hand-picked local travel agencies in over 80 destinations | Local expertise at local prices | ABTA-bonded
---