Weather today

Light Rain

Wind: 12 km/h

Precipitation forecast: 0,6 mm

> Full report and 7-days forecast

---

Data updated at 14:33 (local time)

At that time, the weather was:

23.1 °C / Partly Cloudy
Month

Sunlight
(h/d)
Average T
min (°C)
Average T
max (°C)
Record T
min (°C)
Record T
max (°C)
Precipitations
(mm)

Wet days

Rating
January
9
26
30
22
33
200
11
February
8
26
30
22
33
194
10
March
8
26
30
22
34
210
10
April
8
25
29
21
32
116
9
May
8
24
28
20
31
90
7
June
7
22
27
18
29
61
6
July
7
22
26
18
29
52
5
August
8
21
25
17
27
58
5
September
9
22
26
17
28
30
4
October
9
23
27
19
30
40
4
November
9
24
28
20
31
45
4
December
9
25
29
22
32
110
7
What to do in Rodrigues : Tips, places, hotels and restaurants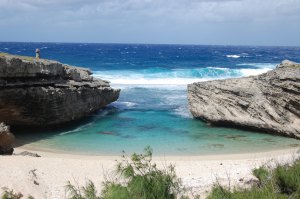 Everyone knows Mauritius and Reunion a fortiori, but few travelers have the chance to have discovered Rodrigues: it is also nicknamed Cinderella Mascarene archipelago in the Indian Ocean and the azure blue lagoons the golden beaches. Rodrigues, a small island of 150 km2 and a population of less than 40,000 inhabitants, yet worth a visit: away from the bustle of Port Louis, little known even by Mauritians, it has kept its ancestral customs and has a very special charm that is sure to seduce you ...

The island does not have the usual tropical landscapes postcards: rougher and wilder, it found there and here forest mango or aloe, very rugged coastline that are reminiscent of Brittany, winding roads and steep trails of the surrounding scattered islands, but also deserted sandy beaches languid along a turquoise lagoon, scattered villages and above all, friendly people and smiling to you welcome generously.

You can indulge in the joys of relaxing on the beaches of the island, but also hiking on meandering trails, scuba diving or snorkeling to discover stunning funds and very little traffic, or kitesurfing and windsurfing on the lake paradise, where colors change from deep green to turquoise blue and the wind makes you grow wings. A trip not to be missed: a visit to the reserve François Leguat, which allowed the reintroduction of giant tortoises in this beautiful protected area. More than a thousand turtles live freely, and some reach 90! You will also visit the museum which traces the history of these animals, as well as caves that are on the site, and the colony of birds' tails-in-spreader "who live there. For traveling around the island, you can easily rent a car, but also occasionally take the bus to meet Rodrigues, or order a taxi.

Regarding accommodation, the hotels do not necessarily have an amazing luxury, but offer a limited number of rooms makes them more authentic and human scale and you will enjoy your stay by promoting your meetings with Rodrigues, always welcoming and smiling. These hotels are usually ideally placed overlooking the lagoon and beach access ... You can also find guest houses, or houses to rent.

One last point: the food. She obviously has some similarities with that of the Mauritius, but is much less spicy and gives pride to local products. The base is corn, which is gradually replacing rice. English influence also left its mark, with the preparation of ham is excellent. Finally, do not forget to try lemons (silt), green papaya salad, Eucalyptus honey, and the famous octopus, in salads or curry.
---