Weather today

Overcast

Wind: 6 km/h

Precipitation forecast: 0 mm

> Full report and 7-days forecast

---

Data updated at 19:51 (local time)

At that time, the weather was:

4.2 °C / Mostly Cloudy
When to go to Chicago? (USA)
Month

Sunlight
(h/d)
Average T
min (°C)
Average T
max (°C)
Record T
min (°C)
Record T
max (°C)
Precipitations
(mm)

Wet days

Rating
January
4
-7
1
-29
17
50
11
February
5
-6
2
-29
21
50
10
March
7
-1
7
-24
16
65
12
April
7
5
14
-8
34
70
11
May
9
11
19
-3
36
85
12
June
10
17
25
2
40
88
11
July
10
20
28
9
40
83
9
August
9
19
27
8
40
80
9
September
8
15
24
-2
37
78
9
October
7
9
17
-10
32
65
9
November
5
2
9
-19
25
60
10
December
4
-4
3
-31
21
50
11
What to do in Chicago : Tips, places, hotels and restaurants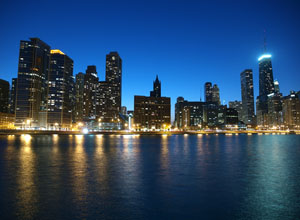 Located in the state of Illinois, Chicago has a population of nearly three million and is the second biggest industrial centre of the USA as well as a major financial centre. It holds an important cultural role and attracts great numbers of visitors. There are many museums and theatres and several quarters have specific features worth discovering: Rogers Park has a dynamic university, Jefferson Park for its park, Uptown and North Center for their boutiques and restaurants, and Beverley for its architecture. Other places are definitely worth a visit such as Chinatown the Chinese quarter, Bronzeville the Afro-American quarter, and Pilsen the Mexican Quarter, each has its own character. There are also a number of notable buildings and monuments including the neo-renaissance style Our Lady of Colours Basilica, the Chicago Cultural Center, and the Civic Opera House. There are some great museums in Chicago too including the Institute of Art which houses numerous French Impressionist paintings, the Field Museum of Natural History with its huge skeleton of a Tyrannosaurus Rex, the Museum of Contemporary Art which is the largest of its type in the world, the Shedd Aquarium, the National Museum of Mexican Art, and the Millennium Park which is a recently opened enormous multi-activity complex. The city is also well known for its musical events and actually being the birthplace of various styles, it is the setting for several annual music festivals, particularly rock and jazz.
Solution to find a comfortable accommodation in Chicago
There are several options available if you are visiting Chicago and would like to stay in a comfortable place for a short or long time. If you don't know how to find your cozy airbnb in Chicago, you can do some research online. Remember to turn on the filter to locate a suitable lodging on Airbnb sites. Don't hesitate to include the date of your arrival to further refine your search. Here is a brief reminder of the steps to follow to facilitate your search:
Enter your destination and the number of travelers in your small group; 
Start your search by using the filters or clicking more criteria; 
Refer to a map or browse the ads to identify an ideal place to stay during your trip; 
Check out the ad you may be interested in and read the detailed description to get more information. Don't forget to review the rules and regulations of the place as well as the travelers' reviews of the host; 
Additional information can be requested by sending a message to the host. 
If the conditions are suitable, you can send your request to the host. Or booking immediately if it is possible to do it from the ad. 
---