Enclave within the city of Rome, the Vatican is nevertheless a state in its own right, territory of the Holy See, and whose creation dates from 1929. With a population of only a few thousand, it is the smallest state in the world, but it has undeniable treasures that make it one of the top places to visit for tourists discovering Rome.
In fact, in an area of less than half a square kilometer, are grouped such famous monuments as St. Peter's Basilica, the Apostolic Palace, the Vatican Museums and its gardens.
The Museums are eleven in number and spread over 1400 rooms, offering wonders to the eyes of visitors.
The Sistine ChapelThe Sistine Chapel, universally known, was decorated by artists of the Renaissance, and its ceiling painted by Michelangelo represents scenes from Genesis. Michelangelo also painted a grandiose and no less famous fresco on the wall of the altar, the famous Last Judgment. The beauty of the work is matched by the colossal undertaking it represents and to which the painter dedicated his life.
In addition to this famous place, you can discover frescoes by Fra Angelico in the Nicoline Chapel.
The Pinacoteca will show you an impressive number of works ranging from the Middle Ages to the nineteenth century, the most famous of which are from Raphael to Nicolas Poussin, through Leonardo da Vinci, Titian, Veronese and Caravaggio.
Other steps in your visit to the Vatican Museums, the Egyptian Museum with its statues, the Ethnological Missionary Museum and its objects of worship originating from Asia, the superb Collection of Religious Art modern where 250 artists see their works exhibited, such as Rodin, Van Gogh, Gauguin, Chagall, Utrillo, Picasso or Matisse, to name a few.
Different galleries add their wonders to those already named: that of geographical maps, those of tapestries in particular, as well as other museums dedicated to specific objects, Roman and Etruscan antiquities, carriages, for example.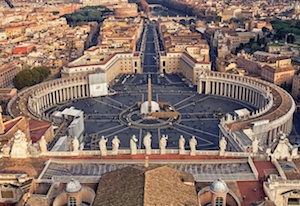 The Vatican Gardens are another jewel of this tiny territory. Once used as farmland to support the needs of the palace's inhabitants, they were also the scene of sumptuous celebrations. Nowadays, they have become a huge green park, ideal for strolling and meditation.
The Saint Peter's Square usually inaugurates the visit of the Vatican. A gigantic work by Bernini, it amazes and astonishes the visitor with its majesty, the elegant symmetry of its lines, its statues and its fountains.
Finally, the Basilica Saint Peter'sDesigned by Donato Bramante, it is the most important monument of the Catholic religion and is a Unesco World Heritage Site. The place can hold 60,000 worshippers and its dome reaches more than 136 meters, making it the highest dome in the world. It is impossible to describe in detail this marvel of architecture, with its many details: the Holy Door and its sculpted panels, the baldachin of the main altar, the statues, the enormous pillars that support the dome, everything will surprise you and will be engraved forever in your memories…
More information about the destination
When to go, what to see and what to do in Italy
When to go, what to see and what to do in Rome