Warning: high risk destination.
Weather today

Light Rain

Wind: 3 km/h

Precipitation forecast: 1,2 mm

> Full report and 7-days forecast

---

Data updated at 11:45 (local time)

At that time, the weather was:

26 °C / Mostly Cloudy
Month

Sunlight
(h/d)
Average T
min (°C)
Average T
max (°C)
Record T
min (°C)
Record T
max (°C)
Precipitations
(mm)

Wet days

Rating
January
4
24
31
20
37
133
8
February
5
24
32
9
36
144
9
March
5
24
32
9
37
182
10
April
6
24
32
20
36
208
12
May
5
24
31
20
37
140
9
June
5
22
28
17
32
10
1
July
4
21
27
16
33
0
0
August
5
21
29
12
33
1
1
September
4
23
30
17
35
42
4
October
4
24
31
20
35
141
9
November
5
24
31
19
34
236
12
December
4
23
30
18
34
174
10
What to do in Kinshasa : Tips, places, hotels and restaurants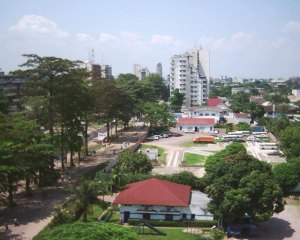 Congo's capital more than ten million inhabitants, making it the third largest city in Africa. Located on the banks of the Congo River, it has the distinction of facing Brazzaville, the Congolese capital Brazzaville. Another distinctive sign, the joy of living of its people, their energy, and talents of musicians and dancers. The sense of fun is a major component of its population, and the nights are also agitated that day: the city is full of discos, bars, clubs that are open until dawn. Also note: the cultural diversity of this megalopolis, which brings together more than 450 Congolese ethnic groups and also hosts many communities in Africa or elsewhere. This wealth is reflected in various artistic and cultural fields: music, of course, but also painting, sculpture, photography, cinema, theater, dance. A teeming city and intense life. Although this city is not exactly a tourist destination, the traveler will find many sites to visit, here are the main ones: the big market, the tomb of President Laurent Kabila, the zoo, the Academy of Fine Arts , Nation Palace, the Palace of the People, the St. Anne's church, and Mount Ngaliema where you can visit the National Museum and its ethnographic collection, the amphitheater of greenery and restored statues. To move in the city, buses and taxis are easy to find. If you need to rent a vehicle, better get a bike that will be more convenient saw street congestion. Also note, nearby Kinshasa, some places not to miss: the falls of the Lukaya, near which you can swim; the sanctuary where bonobos are collected and protected these primates so special, very close cousins ​​of humans and endangered; Botanical Park Kisantu planted with beautiful old trees and a multitude of flowers; Artisanal Delvaux city where you will witness the manufacture of furniture. Finally, enjoy as much as possible to the festive atmosphere of the city once the sun goes down: demonstration of dances, refreshing beers and tasting of local specialties take you to the end of the night!
---